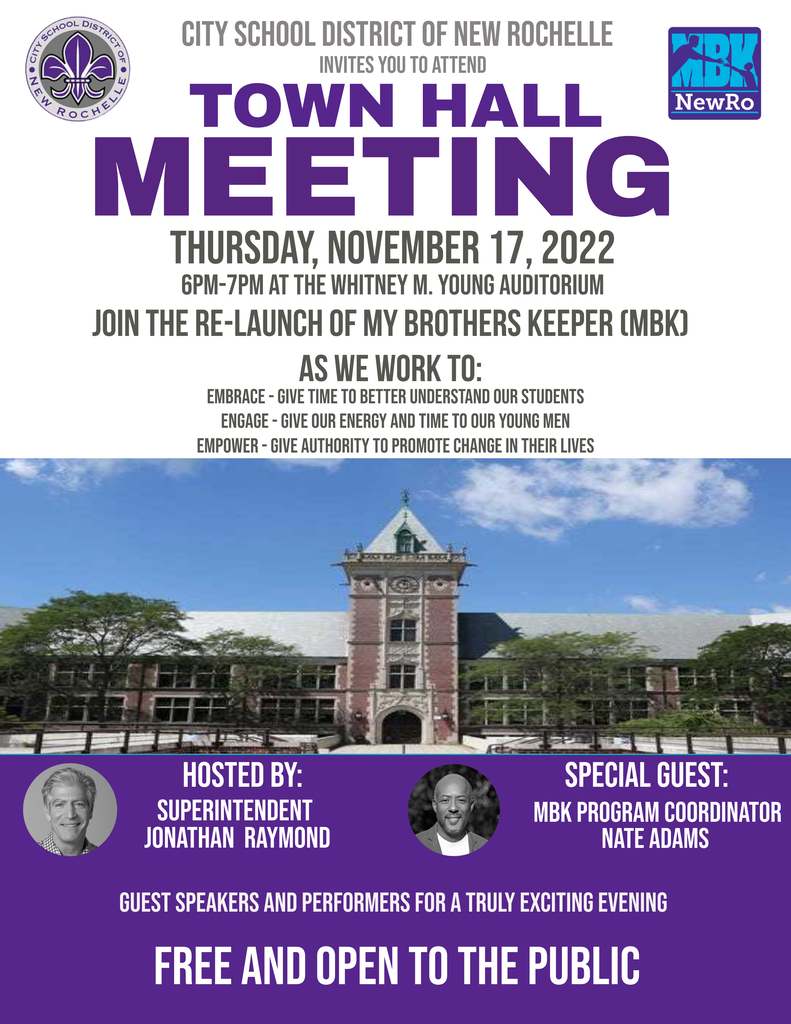 Join us for the Board of Education meeting tonight. The Audit Committee will meet in Executive Session at 6 p.m., and the BOE anticipates convening its public meeting at 7 p.m. The meeting will be at the Daniel Webster Elementary School auditorium at 95 Glenmore Drive, and can be viewed on Zoom at
https://zoom.us/j/91890256959
. Live Spanish translation will be provided.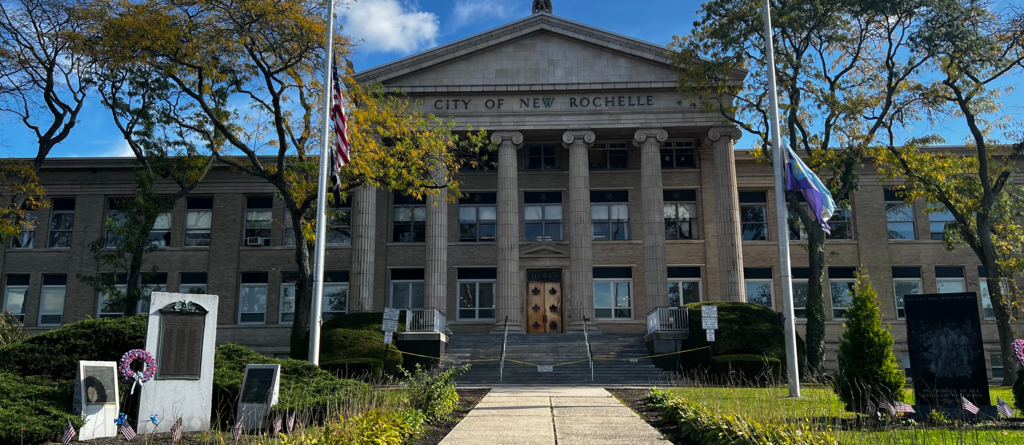 Taller para padres sobre seguridad cibernética el miércoles 9 de noviembre de 2022 a las 19 horas. La Dra. Cahterine Pearlman, autora de First Phone, compartirá consejos sobre cómo mantener a los niños seguros, inteligentes y amables en línea. Para asistir, por favor regístrese en:
https://zoom.us/webinar/register/WN_vApux46LTX2548pFyJ-WzA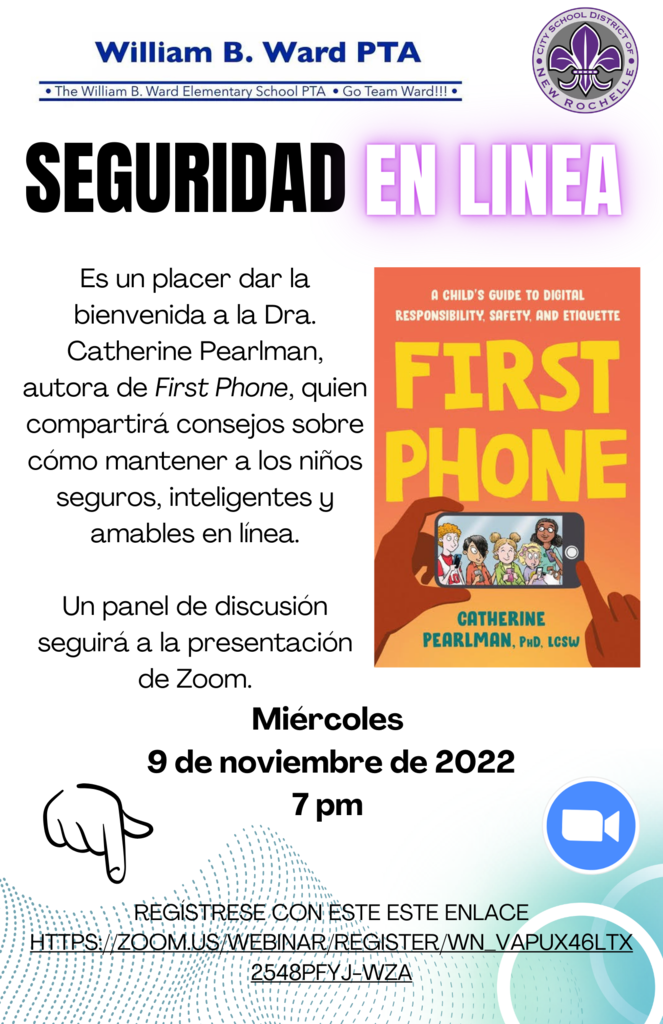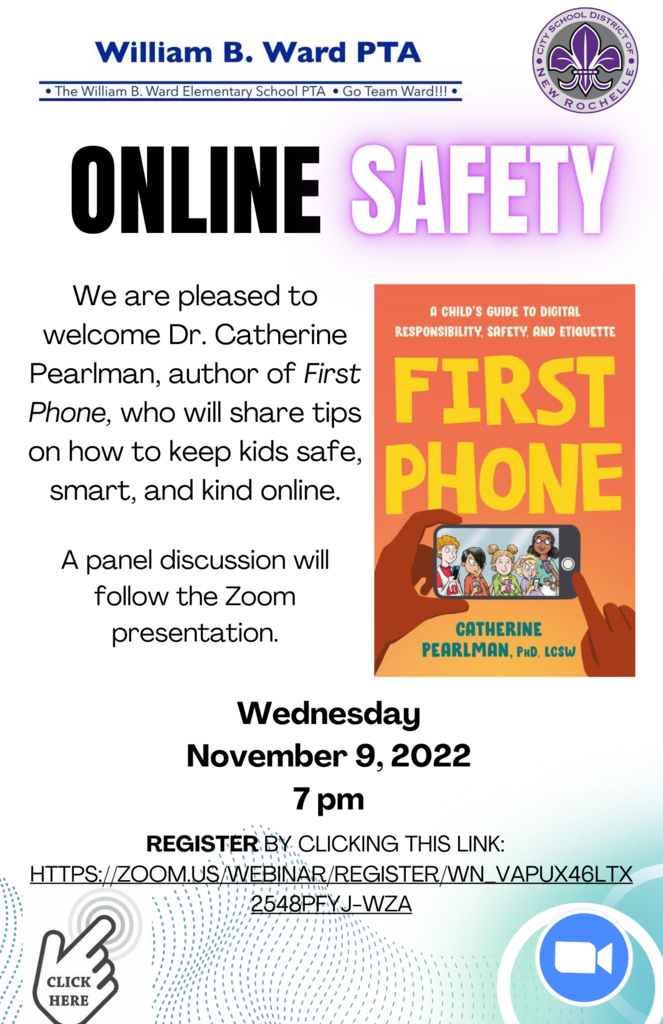 The City School District of New Rochelle District Wide Health and Safety Committee is seeking two volunteers from the community. Individuals with a background or expertise in construction, architecture, or engineering are strongly encouraged to serve on the committee. Committee meetings are held monthly, usually on the third Wednesday of the month. Meeting times rotate between mornings from 9:00-10:30 a.m. to afternoons from 2:00-3:30 p.m. Individuals interested in joining the committee are encouraged to contact Billy Coleman at
bcoleman@nredlearn.org
by October 28,2022.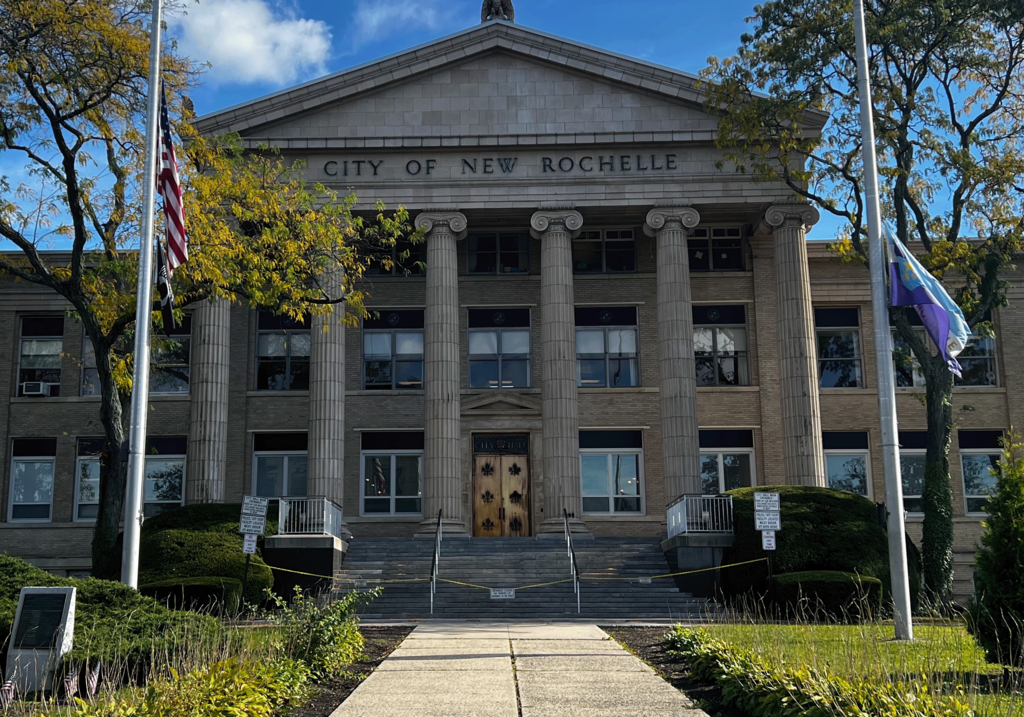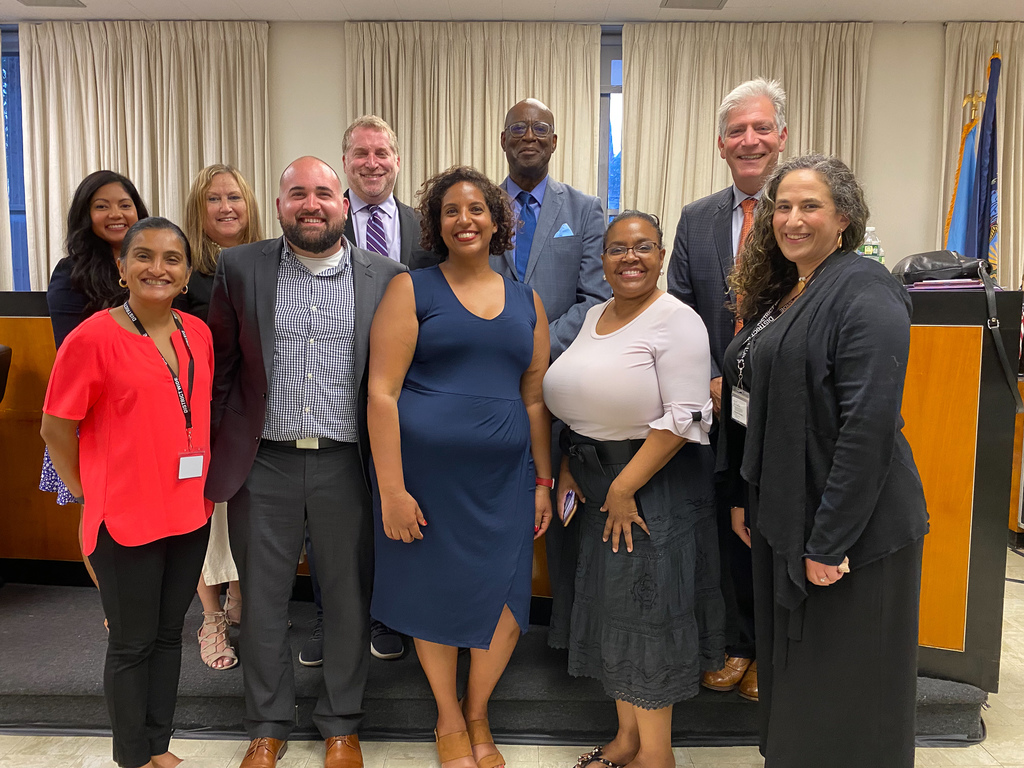 Due to a water main break at the corner of Wilmot Road and Daisy Farms Drive, water pressure at Davis Elementary and the surrounding community has been impacted. Officials have confirmed that a bypass has been installed, causing the water pressure to increase gradually. Our students and staff are safe in the school. The plumbing is operational, they have plenty of drinking water, lunch will be served, and they are continuing their day of learning.


​Dear New Rochelle Families and Community:​ Catch Superintendent Jonathan Raymond's Community Town Hall tonight 9/15 at 6 p.m. via Zoom using the following link:
https://zoom.us/j/94761381179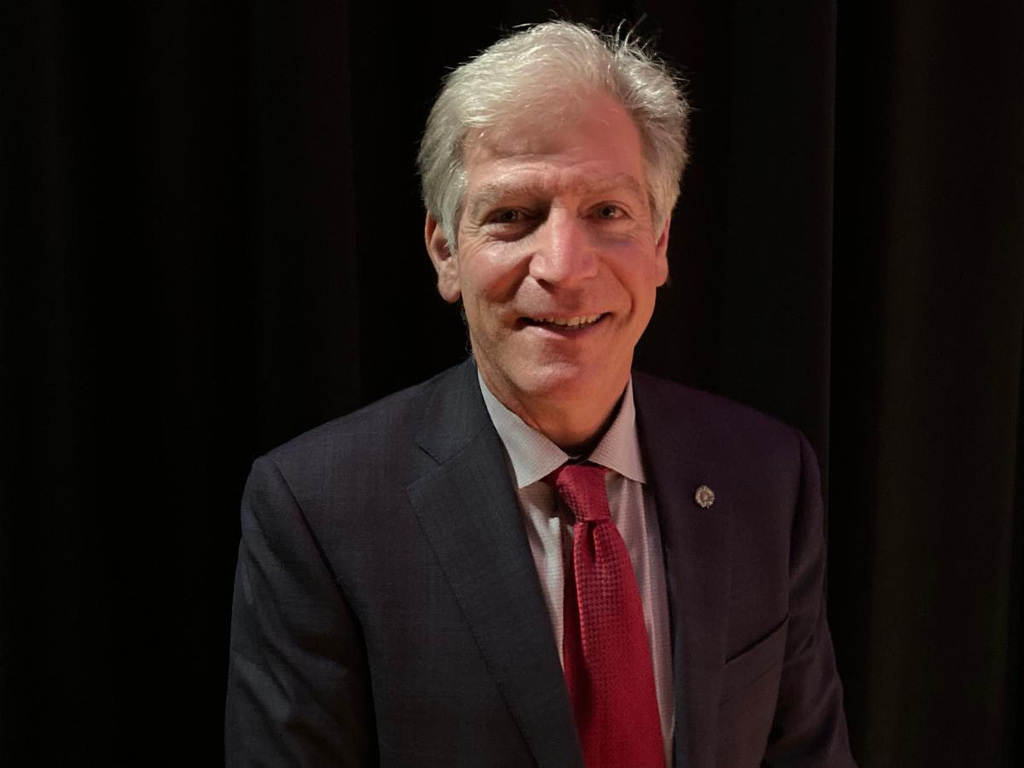 Attention CSDNR Stakeholders: We are revamping the website menu to make things more navigable and easier to operate. Changes to all District pages will take place this afternoon 8/24/22. We appreciate your support.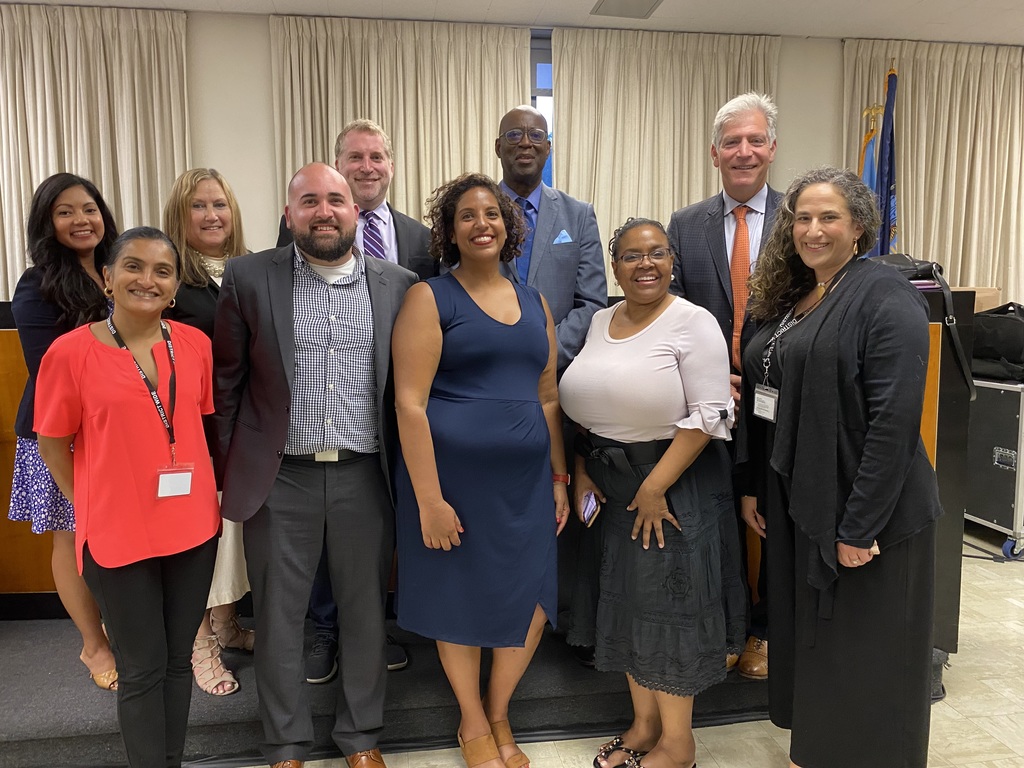 The New Rochelle Police Department will be hosting their Annual National Night Out on tonight, August 2, 2022 from 5 pm to 8 pm. The event will feature an evening of fun at NRPD headquarters including equipment and K - 9 demonstrations, food, children's activities, bounce houses, a dunk tank, photo booth and more. We hope to see you there!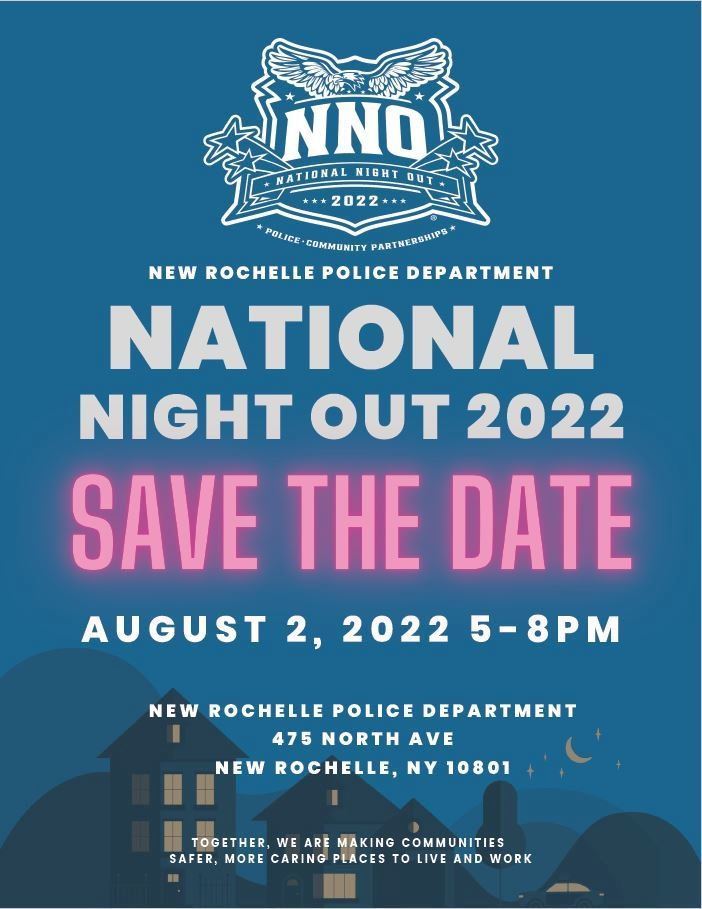 You're invited to attend the next New Rochelle Board of Education meeting Thursday, July 28th, 2022. The meeting also will be viewable via the Zoom video-conference platform. Join the meeting via Zoom at the link below.
https://zoom.us/j/99667814896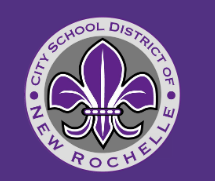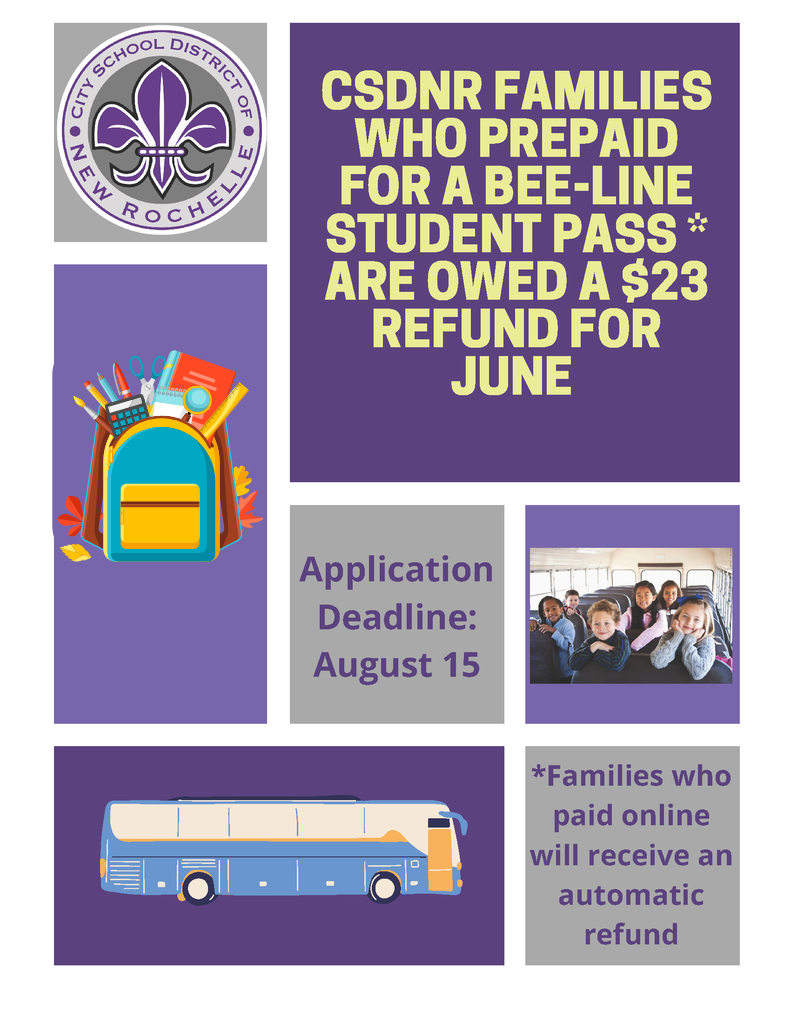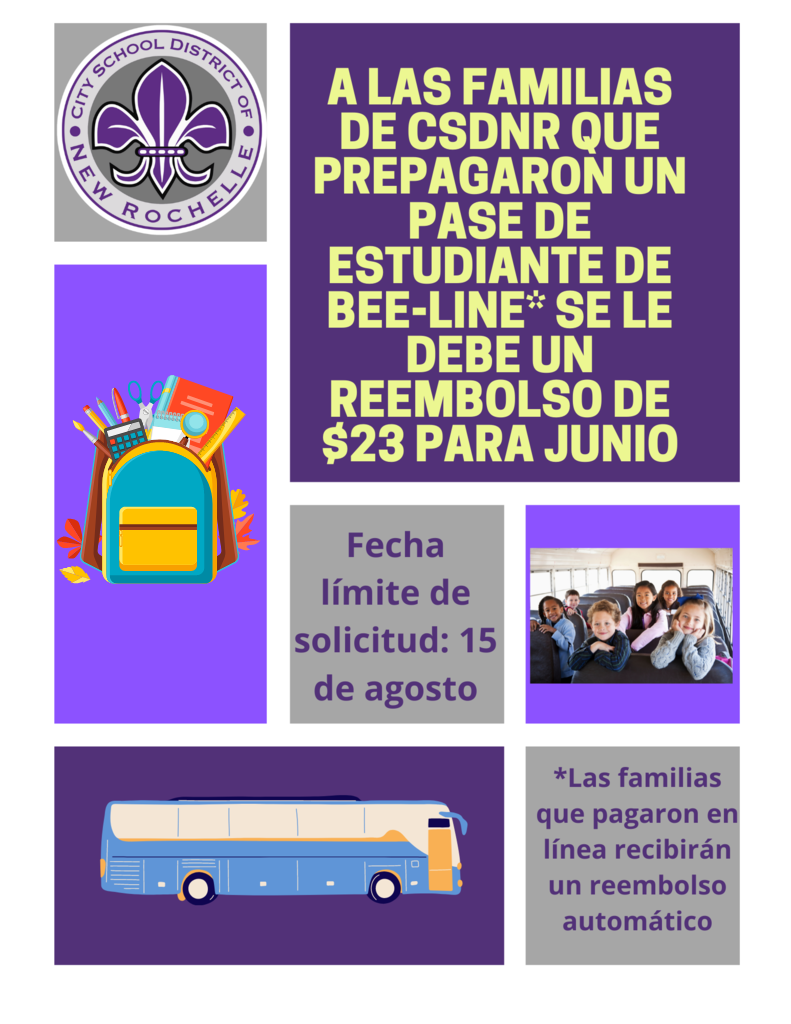 The Department of Development at the City of New Rochelle and the Hispanic American Advisory Committee invite you to participate in our first annual Taste of Union Avenue Event Union Ave between First and Fourth Streets Saturday, July 16, 2022 from 12-7 pm Kickoff ceremony 12-1PM We are hosting this special event for the Hispanic community to offer a taste of the authenticity in New Rochelle's West End. Nearly one third of our residents self-identify as Hispanic and more than half of those were born in New Rochelle. Union Ave features Hispanic grocers, delis, bakeries, markets and an array of authentic restaurants for you to savor. The day promises to offer enriching and fun activities including entertainment, live music, children' s games and arts and crafts, along with a variety of ethnic foods from all of Latin America.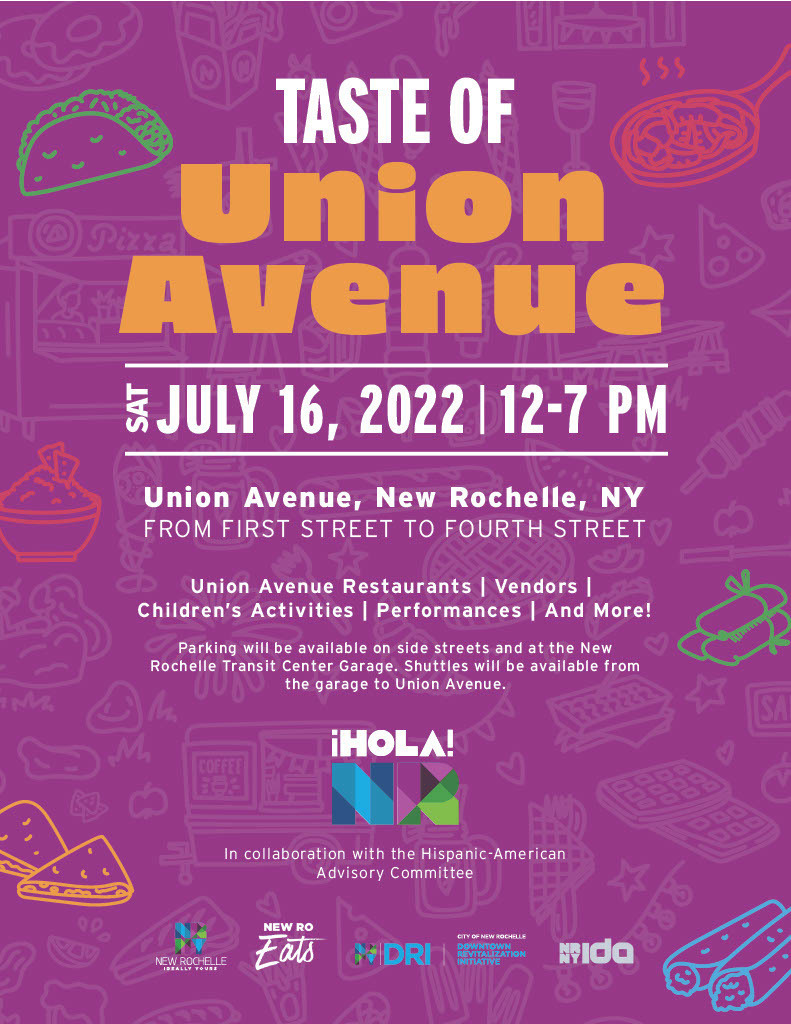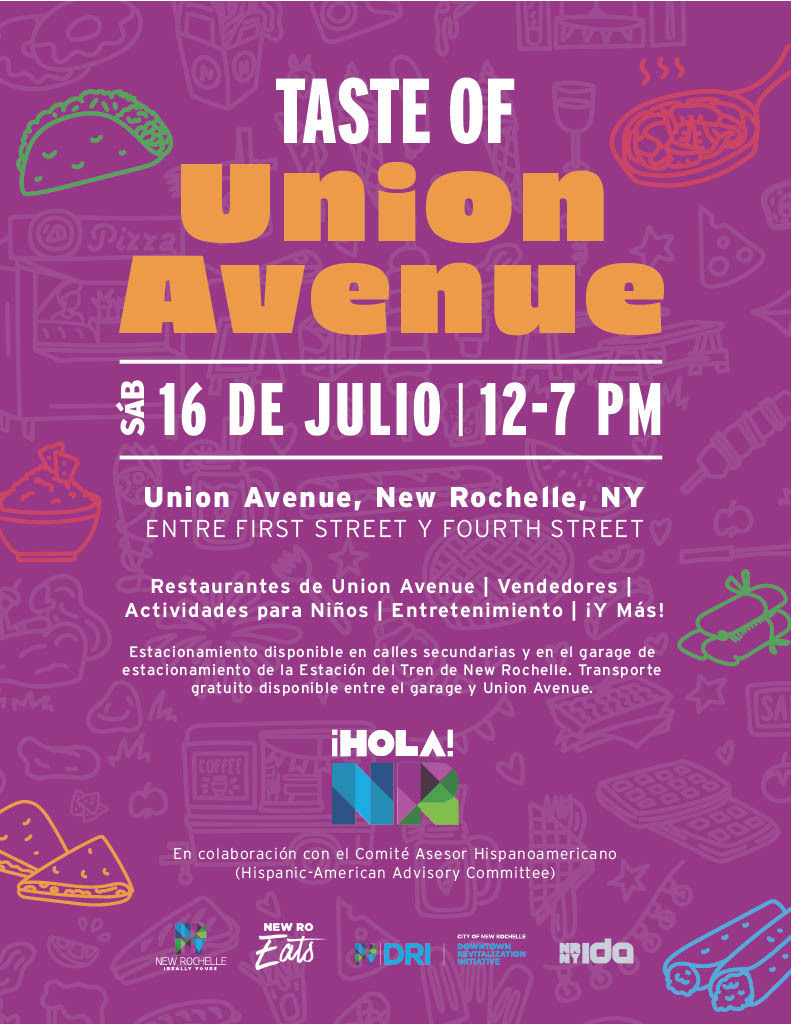 You're invited to attend the next New Rochelle Board of Education meeting Thursday, July 7, 2022. The meeting also will be viewable via the Zoom video-conference platform. Join the meeting via Zoom at the link here:
https://zoom.us/j/95105817942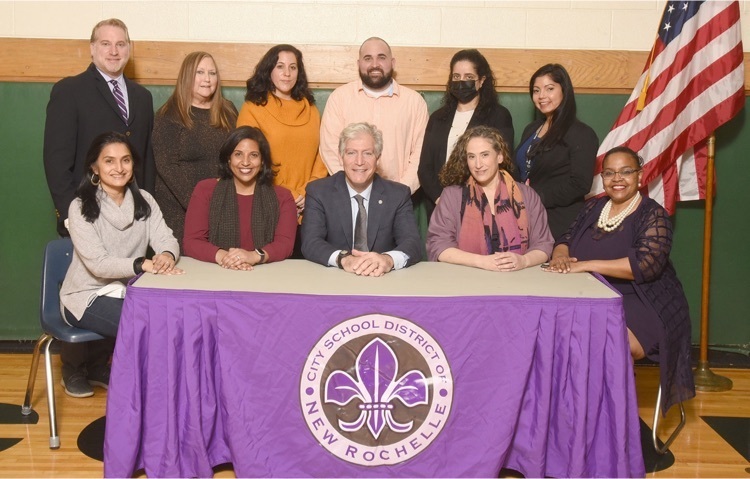 💜