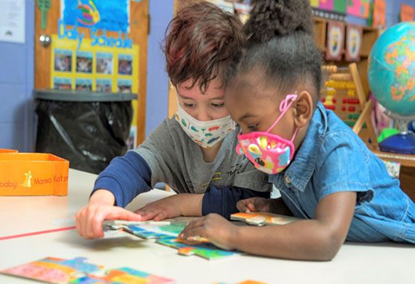 Pre-Kindergarten Lottery Information, Resources & Procedures
The City School District of New Rochelle, in partnership with several community agencies, is offering current New Rochelle residents pre-kindergarten options for the 2023-2024 school year. The Pre-Kindergarten lottery begins January 10, 2023. Families will have until January 27, 2023 to enter and rank their preferences for programs and locations. Families will be notified of the lottery results and student seat offerings beginning on January 31, 2023.
Pre-kindergarten immerses students into a learning-focused community that nurtures individual growth and provides a strong foundation for lifelong education. Children in quality early childhood programs learn socialization skills through group activities; experience reading- and writing-readiness activities; are better prepared for school success; and are more likely to attain higher levels of education.
All pre-kindergarten options require attendance in person; a virtual option is not available. The pre-kindergarten calendar generally follows the City School District of New Rochelle calendar.
To help you learn more about pre-kindergarten and options for families, please attend a free open house for the following programs:
Barnard Early Childhood Center - 129 Barnard Road, New Rochelle, NY
The time for this event has passed. If you were not able to attend the open house, please find attached the presentation in English and Spanish below.
Transportation
Transportation is provided for students that live 1.5 miles or more from home to school if they are attending the Barnard Early Childhood Center.
Community-Based Collaborators
A list of our community-based collaborators and their contact information along with a brief description of their program can be found at https://www.nred.org/page/prek-collaborators
More Information
For additional information, please contact the Office of Curriculum and Instruction at (914) 576-4622 or email CSDNRPreK@nredlearn.org
After being placed in a pre-kindergarten program, please register online at www.nred.org/o/nrps/page/registration. Thank you.