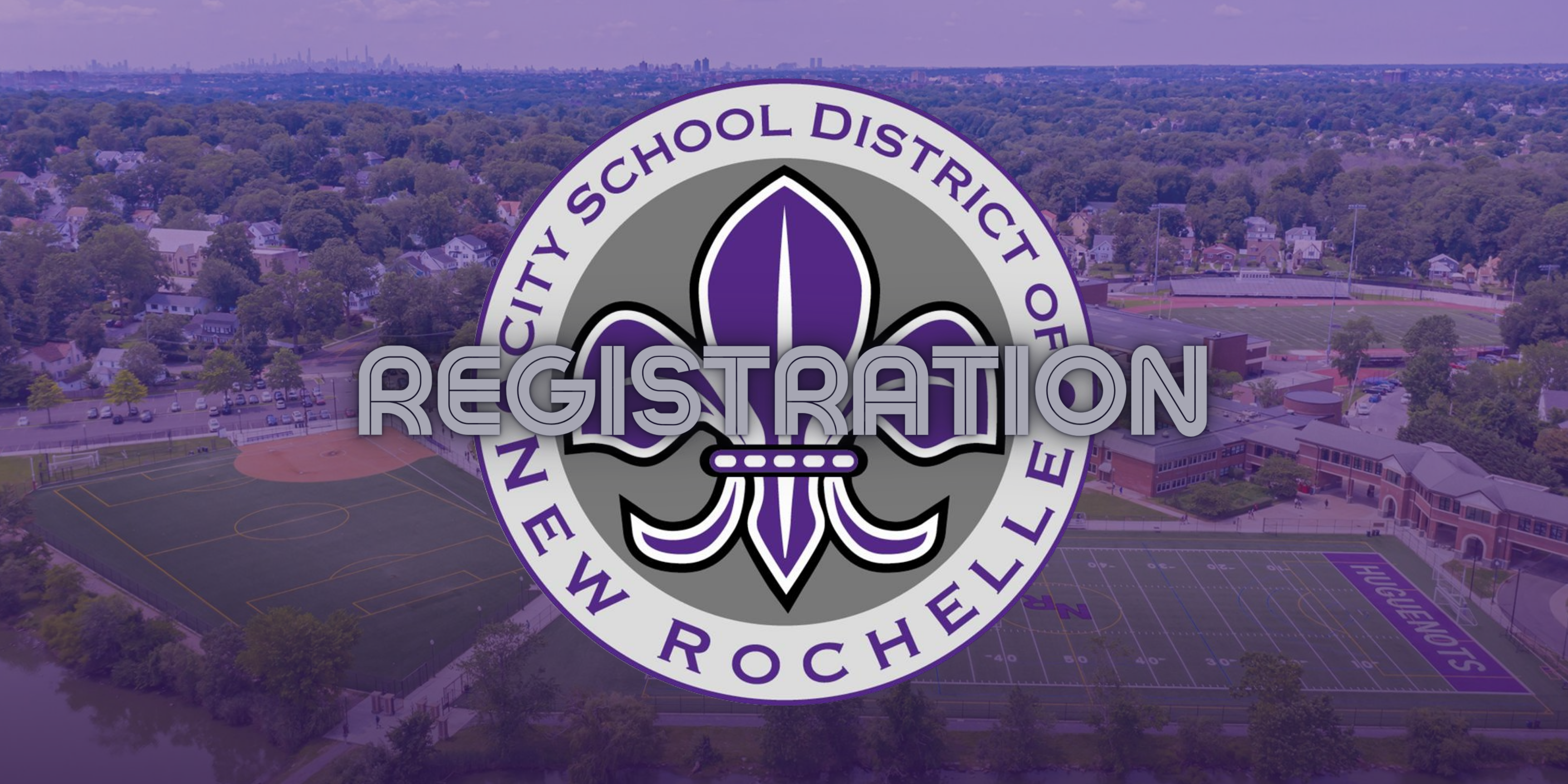 WELCOME TO REGISTRATION FOR THE CITY SCHOOL DISTRICT OF NEW ROCHELLE
New Student Registration is now online!

Thank you for visiting our registration page. Here you will learn more about ongoing registration for students now and for the incoming 2022-2023 Kindergarten students.

K-12 student registration for newly arrived students in 2022-2023 is continuous. New families currently registering for the remainder of the 2022-2023 school year and parents/guardians of entering kindergarten students for the 2022-2023 school year (age 5 by December 31st) may begin the registration using the links below.
Registration documents and forms are also available in each elementary school. Please complete all required forms and documents (English or Spanish) and return them to your home-zoned school. You can also download and print forms from this site. However, we highly encourage you to use the online registration portal. All required forms may be uploaded to your application. We are here to assist all parents/guardians throughout the process.

If you need assistance, please email CSDNRRegistration@nredlearn.org. Include your name and phone number; or call your local school between 9am and 3pm. The City Hall Support Center will be is available on Tuesday through Thursday from 4:30pm-6:00pm.

Columbus Elementary School: (914) 576-4401

Jefferson Elementary School: (914) 576-4430 ext. 34602

Trinity Elementary School: (914) 576-4440 ext. 35604

George M. Davis Jr. Elementary School: (914) 576-4421 ext. 32600

William B. Ward Elementary School: (914) 576-4452 ext. 36602

Daniel Webster Magnet School: (914) 576-4462

We welcome parents/guardians to call or make an appointment to visit the City Hall Parent Support Center if they need assistance.
*Please read this important information before completing the registration application*

If you are having difficulty finding your Zoned School, please refer to the following suggestions:

>Please ensure you are selecting your address from the Google autofill suggestions. A freely keyed address will not validate.

>If you do not immediately see your address as a Google suggestion, please continue to type additional characters in your street name (i.e. if your address is 123 Elm Street, do not simply type "123 Elm", continue to type the space and "St".

>If your street address appears as a suggestion but in other cities, please type a space followed by the first couple of characters of your city name (i.e. "New"). This will narrow down the suggestions listed.

>Please ensure that both the zip code and grade level fields are populated. An address will not validate/a home zoned school will not be found if the grade level and/or zip code fields are blank.

>Additionally, please note that a registration form is not complete and will not be approved if all required documents are not uploaded. You will be contacted by a District staff member if your registration form is lacking documentation.

Please note that we also have in-person registration support at City Hall by appointment only. Kindly contact:

csdnrregistration@nredlearn.org

with any further inquiries.